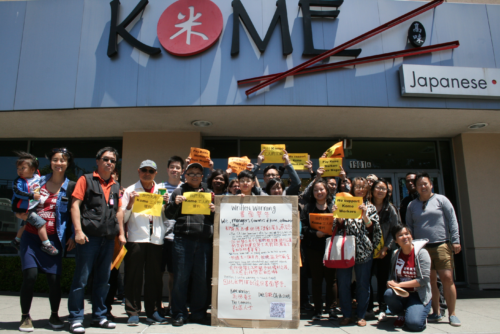 On June 7th, 2018, the California Labor Commissioner issued a $5.16 million wage theft citation to owners at Kome Buffet in Daly City.
One of the workers at Kome, Chiu Ping Tam shares, "Many of my coworkers have been working at Kome since it opened its doors. Our hard work has made Kome a successful and popular restaurant for immigrant families. And yet, we have endured all kinds of labor law violations and unfair conditions, including not having minimum wage, overtime pay, paid sick days, and our tips being stolen. This past week, California Labor Commissioner issued a $5.16 million citation to our employers for wage violations affecting 133 workers."
When this happened, Kome owners called the workers "liars" and said "servers always want more money." See the coverage here. 
Join us in supporting #DignityforKomeWorkers and sign on to our community letter to Kome owners at http://bit.ly/dignityforkomeworkers
---
#DignityforKomeWorkers Community Sign-On Letter
To Kome Owners David Tai Leung, Wendy Lai Ip, Jun Zheng, Gang Zhou, Bai Dong Zhang, Tiffany Leung:
We are concerned community and civic leaders urging you to restore stolen wages to the workers at Kome Japanese Seafood Buffet and all of your affiliated restaurants, including Tomi Sushi and Seafood Buffet in San Jose, Concord and the Grand Harbor restaurant in Burlingame.
For years, we and our constituents have dined and celebrated at Kome Seafood Buffet in Daly City. We know that the hardworking kitchen and service staff are the foundation of Kome's phenomenal success. We were shocked and disappointed to hear Kome workers' experiences of being paid less than minimum wage, working long work days with no overtime pay, having tips stolen by management, and verbal abuse. We understand that the California Labor Commissioner has issued a citation of $5.16 million for owed wages and penalties.
As community leaders throughout the Bay Area, we stand by workers who are courageously speaking out for their rights and dignity. It is wrong for Kome owners to profit while workers cannot afford to pay the rent and take care of their families. Restaurants and immigrant-owned businesses are a key driver of our local economy and important employment source. In times of great economic inequality and affordability crisis, our community needs businesses that provide dignified living wage jobs, not employers who rely on wage theft as part of their business model.
We urge the Kome owners to comply immediately with the $5.16 million citation issued by the CA Labor Commissioner's Office and to do everything in your power to resolve all worker mistreatment and labor law violations. We also remind you that it is illegal and immoral to intimidate, target, or retaliate against workers who have participated in the labor investigation and organized for a dignified and healthy workplace.
To that end, we would like to request a meeting with you and community representatives to discuss these concerns and how Kome can work with the community to become a responsible employer who uplifts immigrant communities. Please contact Pam Tau Lee at ptlee14@gmail.com to schedule this meeting.
Sincerely,
[Your Name / Organization]