Many Asian-American advocates say their warnings that anti-Asian sentiments would manifest in continued violence have gone unheeded and that mounting fears and anxieties have been ignored or downplayed.
And after a year of protests against police brutality and calls for criminal justice reform, they're grappling with what it takes to keep their community safe.
"It's a divisive issue when it comes to public safety," said activist Max Leung, who is based in San Francisco. "On the one hand, you have a segment of the Asian community who want more police and stricter punishment for crimes, and then you have another segment of the community that wants less policing and supports the defunding movement."
Anti-Asian racism was fanned during the pandemic by several U.S. political leaders — including then-president Donald Trump, who often called the coronavirus the "Chinese flu." Stop AAPI Hate, which started tracking acts of discrimination, harassment and physical violence against Asian Americans and Pacific Islanders last year, identified nearly 3,800 anti-Asian incidents since last March, 6.2% of which were targeted at people over 60 years old and an overwhelming 68% at women. Voice of America reported that official hate crimes against Asian Americans grew by more than 150% in 2020. Activists say many more have gone unreported nationwide.
In the immediate wake of the Atlanta shootings that targeted three spas, cities with large Asian populations have focused on ramping up their law enforcement response. On Wednesday, the New York Police Department announced that it would deploy members of its counterterrorism unit to patrol Asian neighborhoods. Police chiefs and mayors in Seattle, Oakland and San Francisco plan to increase police staffing in Asian enclaves, too.
The police are a welcome presence for some residents — in particular seniors, and local merchants, some of whom have hired their own private security guards. Yet many Asian-American advocates fear that increasing police activity alone would do little to prevent violence, and could stoke tensions between Asian groups and the Black community, who are often subjected to racial profiling and police brutality.
"We must invest in long-term solutions that address the root causes of violence and hate in our communities," read a statement from the Asian Americans Advancing Justice-Atlanta in response to Tuesday's shootings. "We reject increased police presence of carceral solutions as the answers."
Instead, local organizers say they want more government support for victims and more resources dedicated to community-based violence prevention programs. In New York City, L.A., and the Bay Area, organizers are taking these efforts up themselves, setting up volunteer groups to patrol Chinatowns in the hopes of preventing potential assaults against the elderly and small-business owners. Some are predominantly made up of volunteers from the Asian-American community; others are multiracial.
"For the Chinese community to be able to be safe in every sense of the word, we have to be working in partnership with other communities of color across the region," said Shaw San Liu, the executive director of the Chinese Progressive Association.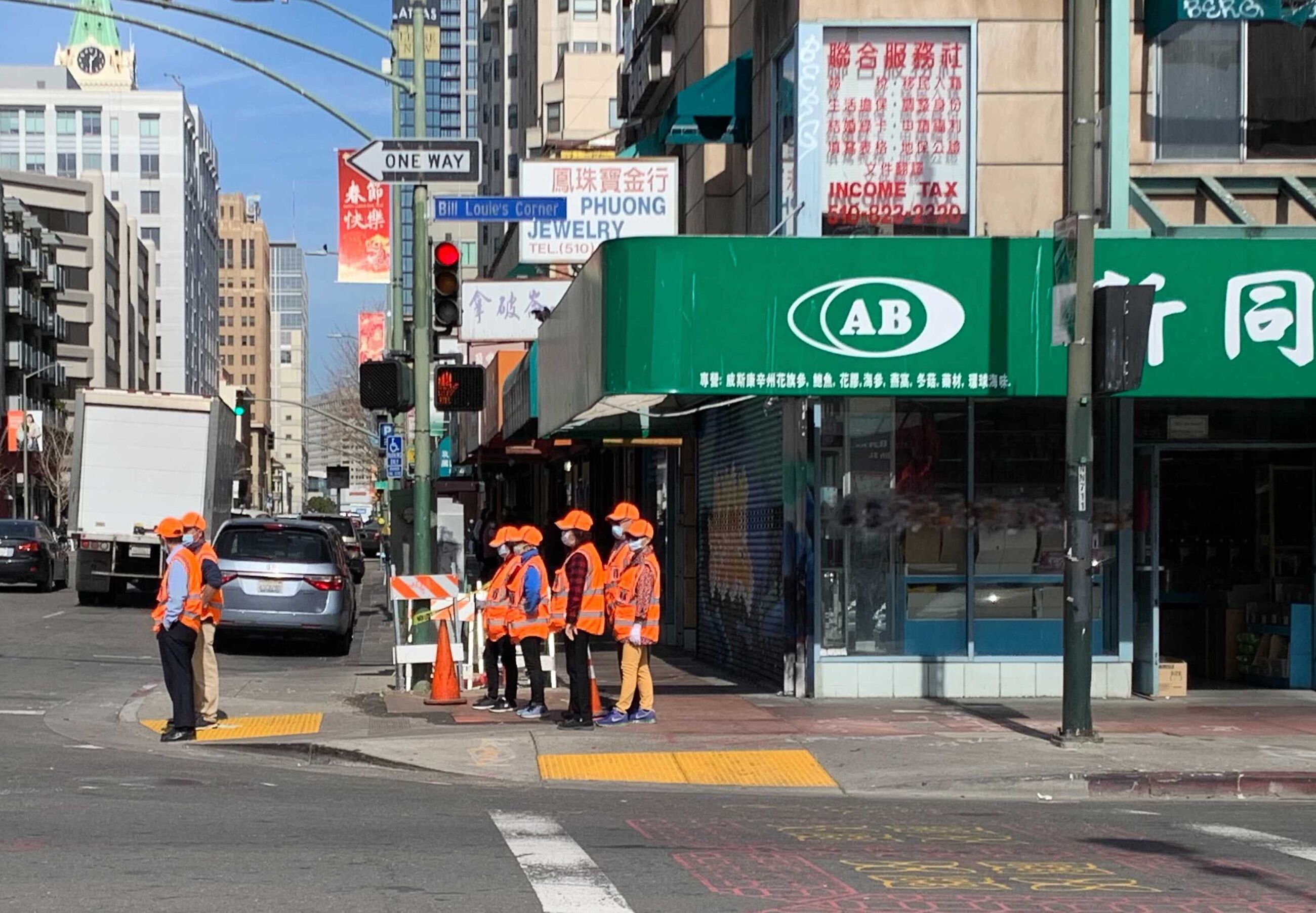 Over the past month, Oakland's Chinatown has been on high alert, and filled with a new presence. Weaving in between merchants selling vegetables and pedestrians on their way to work, members of volunteer patrol groups walk the streets in orange or blue safety vests, or dressed in plainclothes. Private security guards stand on street corners with guns on their holsters.
They're there to deter a new wave of violence, they say, by bringing more eyes to the streets.
Their efforts started after surveillance camera video of a 91-year-old man being pushed over in Oakland's Chinatown went viral in February, and a series of attacks on senior residents in the Bay Area became a national concern. The month before in January, 84-year-old Vicha Ratanapakdee, who is Thai, was tackled to the ground and killed while out on a walk in his San Francisco neighborhood. And just this month, 75-year-old Xiao Zhen Xie fought back when she was punched in the face while standing at a stoplight on San Francisco's Market Street.
On a recent Friday, volunteers from Compassion in Oakland met in front of a fountain in the heart of Chinatown. The fledgling organization was formed after East Bay local Jacob Azevedo posted on Instagram in late February offering to accompany anyone who felt unsafe walking through the neighborhood. The post went nationally viral, and more than 600 volunteers signed up to be "chaperones" for elderly neighbors. Nearby was a foot patrol run by the East Bay Toishan Association, made up of older volunteers who travel in a group. According to NBC News, it's supported by the Oakland Chinatown Chamber of Commerce and several other nonprofits.
As the volunteers fanned out, they passed private security guards contracted by Goliath Protection Group and hired by local business owners, who'd crowdfunded more than $100,000 to pay for them. "We're here to deter," said one guard, who asked not to be identified by name. He has not had to use his firearm on any shift, he said, and he doesn't hope to. "We don't want to do anything to cause any further damage."
These patrollers shared an intention not to use violence in protecting the neighborhood. The unarmed groups like Compassion in Oakland and the East Bay Toishan Association also see community-building as their goal. Rather than an alternative to police, some organizers and volunteers described wanting to be a bridge to law enforcement, which they say has not always been responsive to the needs of the community.
These efforts come at a critical juncture for Oakland. A multiracial coalition of activist organizations, including the Anti Police-Terror Project and the Asian Pacific Environmental Network, have signed on to demands to cut spending for the Oakland Police Department by 50%, and invest in community alternatives. The city is also discussing other non-police violence prevention strategies that focus on the needs of Black neighborhoods. City council has voted to move forward with a pilot that will respond to mental health-related calls for service with social workers and unarmed health care professionals.
Though Oakland Mayor Libby Schaaf has supported efforts to "reimagine public safety," including the mental health response pilot, she condemned past efforts to cut police budgets during a February press conference on the string of attacks, saying she wanted to deploy more police resources, not fewer. While Oakland approved a budget that spends slightly more on police this fiscal year than last, some law enforcement services were indeed cut late last year, including police foot patrols in Chinatown. 
Officials like Schaaf are caught in a balancing act, with many merchants asking for more police. "I ask all of our seniors in Chinatown and basically all of our businesses: Do you want to see police in this community?" Carl Chan, president of the Oakland Chinatown Chamber of Commerce, told KQED. "So far, I haven't heard anybody say no."
In New York City, Mayor Bill de Blasio raised eyebrows when he suggested Thursday that police officers should intervene even in "hurtful" acts that are not criminal. During a press conference to announce a mental health initiative geared at communities of color, he responded to a reporter's question about hate crimes: "If someone has done something wrong, but not rising to a criminal level, it's perfectly appropriate for an NYPD officer to talk to them to say, 'that was not appropriate, and if you did that on a higher level, that would be a crime." The comment has raised new concerns on social media that the government response to recent violence will be over-policing and potentially even policing speech.
Progressive Asian-American groups have stressed that the knee-jerk instinct to call in more police are misplaced and harmful.
"No matter where we stand on policing, we agree it's not working. We are in a moment where across the board, everyone's really searching for answers to the question of: How do we have greater safety in our community?" said Liu of the Chinese Progressive Association, which is based in San Francisco. She added this moment is "an opportunity to reimagine what that means."
Cat Brooks, the co-founder of the Anti Police-Terror Project, a Black-led Oakland-based organization, that says local governments could instead use public safety budgets to put money toward "groups that are doing this work anyway," such as the local community patrols. "Let's give resources to groups that have relationships with people on the ground," she said.
Nikki Fortunato Bas, Oakland's city council president who represents the Chinatown neighborhood, stressed in February that efforts to address violent crime are not incompatible with calls for alternatives. Research by the Anti Police-Terror Project found that of the 442,841 calls for service Oakland Police received last year, only 4.2% of them were for violent incidents; another 10% were medical-related and 12.6% were traffic-related.
Other organizations and officials emphasize that any effort needs to be paired with a holistic approach to fighting poverty and joblessness.
"To address this issue long term we really need to look at how underinvestment across communities of color create the conditions that lead to more crime and more violence," Liu said. "This is a result of a system that is at a breaking point and needs to be re-envisioned and restructured to ensure that communities across race are able to access [jobs, housing, and health care] resources." Resources and services for survivors in their native language is also necessary, she said.
Spurred by advocacy from a broad Coalition for Community Safety and Justice (CCSJ), which includes the Chinese Progressive Association, San Francisco's 2021 budget includes $700,000 for restorative justice, victim services, violence prevention and intervention, and community education. But the one-time allocation fell short of the coalition's original ask of $3 million, and they're currently pushing for more — and more consistent — spending.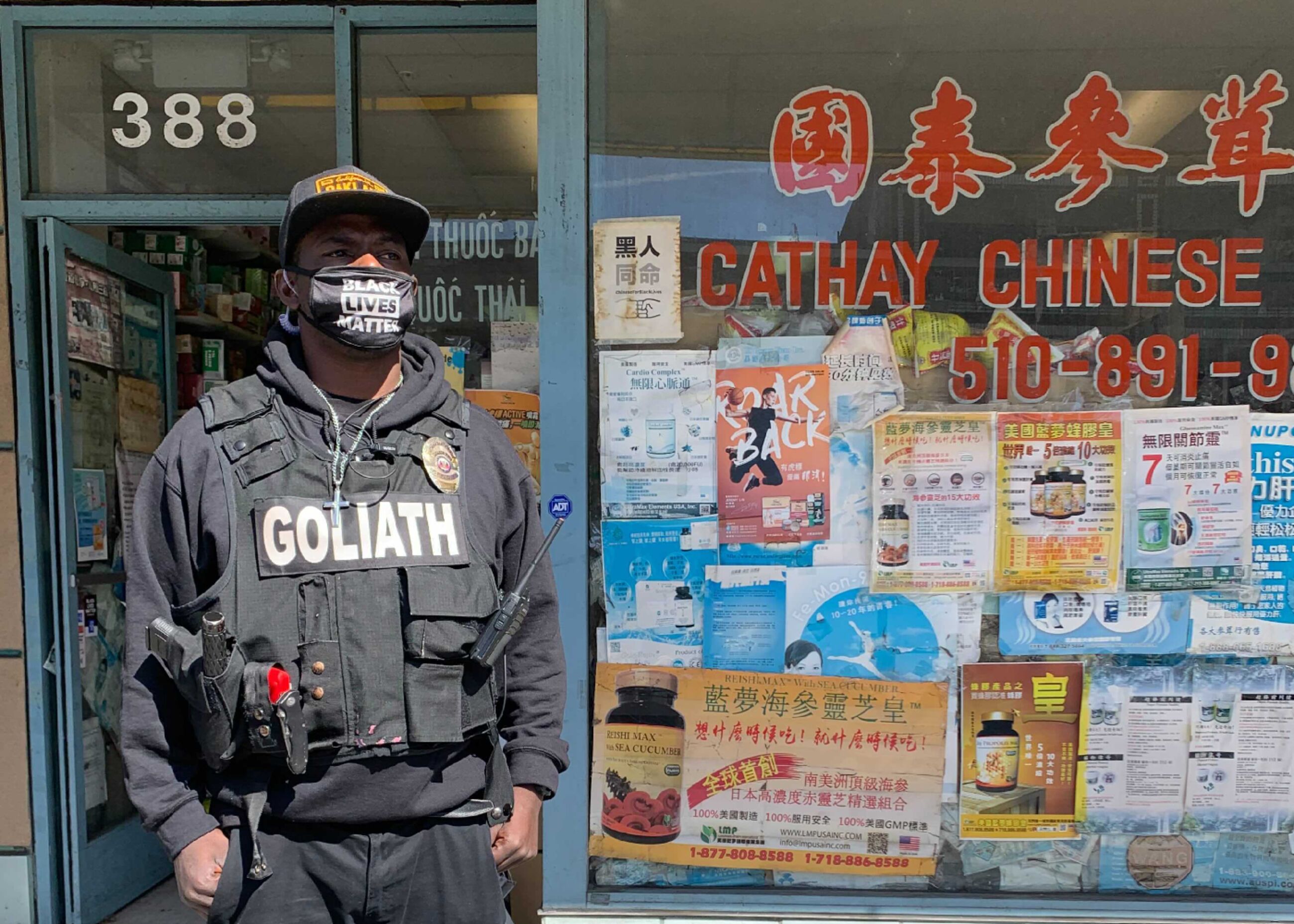 In addition to budget commitments, a common ask in the Asian-American community is for criminal accountability. That doesn't necessarily mean more police on the streets, but it does mean aggressive prosecutions of the most violent incidents.
In February, 19-year-old Antoine Watson pleaded not guilty to charges of murder and elderly abuse for the death of Vicha Ratanapakdee. The victim's family has been outspoken about their belief that Ratanapakdee was targeted for both his vulnerability and his race, but San Francisco prosecutors have been reluctant to charge Watson with a hate crime, citing insufficient evidence. Similarly, Georgia authorities have so far avoided hate crime charges in the Atlanta shooting, charging 21-year-old Robert Aaron Long with eight counts of murder and one count of aggravated assault. A Georgia sheriff's office spokesperson sparked outrage when he characterized Long's motives as "having a really bad day." Some activists also say investigators are playing down Long's racial motives by focusing on his "sex addiction," adding that the two are inextricably linked.
"Accountability looks like being properly charged and prosecuted for crimes first and foremost," said Leung, who started organizing neighborhood patrols around San Francisco's Chinatown at the beginning of the pandemic. "And then if and when feasible, and reasonable, and justifiable, we can implement restorative justice."
The task now is to harness the anger, sadness and grief into creating new systems for keeping each other safe, said Vivian Yi Huang, the deputy director of the Asian Pacific Environmental Network.
"Safety is really about people having dignity in their lives, having connection with one another, and having access to resources that meet each other's needs."
Reporters: Sarah Holder and Linda Poon, March 19, 2021.
Link: https://www.bloomberg.com/news/features/2021-03-19/asian-american-groups-don-t-just-send-more-police